New Jamboree Leader Bio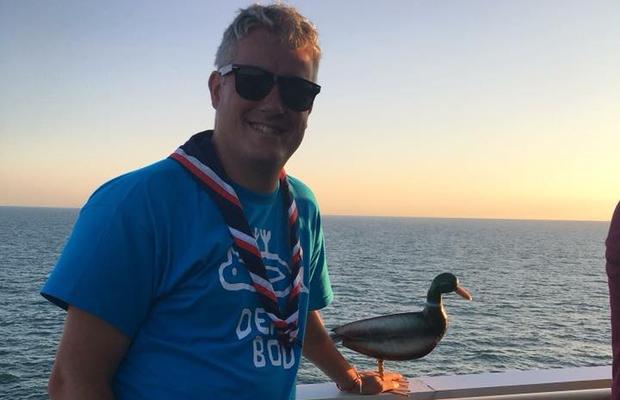 I'm Andy and I'm delighted to have been recently selected to join Unit 31 on their adventure of a lifetime to the 24th World Scout Jamboree to West Virginia in 2019.
Having seen the life changing effects a World Scout Jamboree can have on our Young People and Adult Volunteers alike I'm looking forward to joining Lewis, Rachel and Sheenagh in sharing this once in a lifetime experience!
It's clear that a lot of hard work has already been done by the team so far in preparing the unit for the Jamboree next year so I have some catching up to do! I've really enjoyed my time spent so far with the unit. A training camp at Raywell, my introduction to them all and Ice Bucket Challenge style welcome. As well as an adrenaline fuelled action packed activity weekend at the APEX Challenge!
My journey began when I was introduced to Scouting by my uncle at the age of 11, I really enjoyed the chance to get out doors, camping, hiking, climbing amongst other activities. Developing skills for life, independence, respect, leadership and teamwork. I enjoyed every minute and met some amazing people who have become lifelong friends. I enjoyed it so much at the age of 18 and still a Venture Scout at the time, deciding to take on the commitment of becoming an Assistant Scout Leader. Still learning but also able to share some of the knowledge and experience I had gained whilst at the same time working towards my Queen Scout Award, one of my proudest achievements.
Volunteering in Scout and Cub sections I had the opportunity to take part in UK international Jamborees, Poacher, Charnwood, Essex and even visited the 21st World Scout Jamboree held in the UK in 2007. My first real experiences of International Scouting and meeting people from around the world. My thirst for international Scouting grew further and saw leaders from my group at the time taking 32 Young People and Adult Volunteers to Kandersteg, the International Scout Centre in Switzerland in 2010, a trip that would be repeated during 2018, this time taking 144 Young People and Adult Volunteers from the City of Hull District.
When I'm not volunteering I work within the Aerospace Engineering Industry, an industry I have enjoyed working in since leaving school, entering through an apprenticeship scheme. In my spare time I enjoy spending time with friends and family, in 2017 I became an uncle for the first time. I enjoy traveling whenever I can, over recent years this has mainly been road trips in America, my favourite car so far being a convertible Ford Mustang! I also enjoy taking my dog Ollie a Liver and White Cocker Spaniel for long walks in the countryside.
My main role in Scouting is that of District Commissioner for Hull, supporting and helping Adult Volunteers, working to develop and promote Scouting in Hull to enable as many Young People as possible to have the opportunity to enjoy the outdoors, take part in adventurous activities, learn skills for life and make lifelong lasting friendships.