Put the OUT in SCOUT!
With all the necessary time spent indoors and online during the COVID-19 pandemic, we want to see our young people back outside and enjoying the wonderful world around them!
During 2022, complete 10 of the activities below to get your young people to put the OUT in SCOUT!
#puttheoutinscout
Choose 10 of the 12 activities to complete at any time in 2022.
You can interpret them however you would like to, just remember they must be done outside!
We would love to see photos of you completing them, by sharing them on social media with #puttheoutinscout
To help you and your Section keep track of the ones you have completed, collect your poster from your DC and display it in your meeting place, ticking off each activity as you complete it.
To show that your young people have put the out in Scout, award them with the FREE occasional badge that can be worn on their uniform until 31st December 2023.
Badges can be ordered through this online form.
Go on a Hike
Urban or rural, it doesn't matter, just enjoy walking with your Section, clocking up those miles and adding to their staged activity badge.
Nurture Nature
Do something to help nature and the environment.
Australian BBQ
Prime BBQ-ing season in Australia is December - February, so crack out those coals and get grilling in these months.
Outdoor Activity
Find something different to anything on this list to do outside.
Adventurous Activity
Visit your local campsite or activity centre and try an adventurous activity. It could be a new one or an old favourite of your Section's.
Help your Community
Do something to have a positive impact outdoors in your community.
Sleep Out with your Section
Plan and enjoy a night away for your Section. If you aren't sleeping outside, then ensure your activities are outdoors instead.
Squirrels - This would be a great opportunity to visit a nights away so they can see what they have to look forward too!
New Outdoor Sport
Every Section has their favourite sport to play outside, but this time try a new one. There are plenty to choose from on the Activity Finder.
Outdoor County Event
Have a look at the upcoming outdoor County Events and get booked on to attend.
Share an Activity
Choose one of the activities above to do with another Section. They could even be from a different Group or District.
Renew your Promise Outdoors
St George's Day is on 23rd April in 2022 and would be the perfect opportunity to do this.
Water Activity
It's time to get wet outside!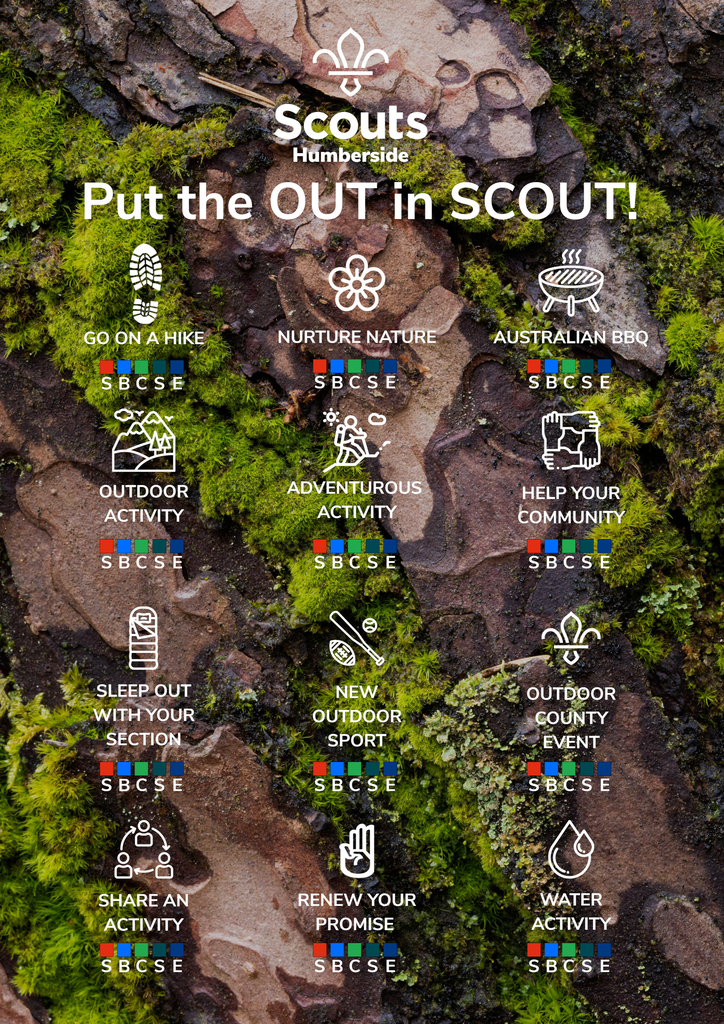 Download a copy of the Poster
With a box for each Section in your Group, display the poster in your meeting place and tick each activity off as you complete it with your Section.
Collect your printed A3 version for your Group, from your District Commissioner.
Until then, you can download a digital version below.
Have you done more or less than the other Section's in your Group?