25th World Scout Jamboree Unit 40 Leadership Team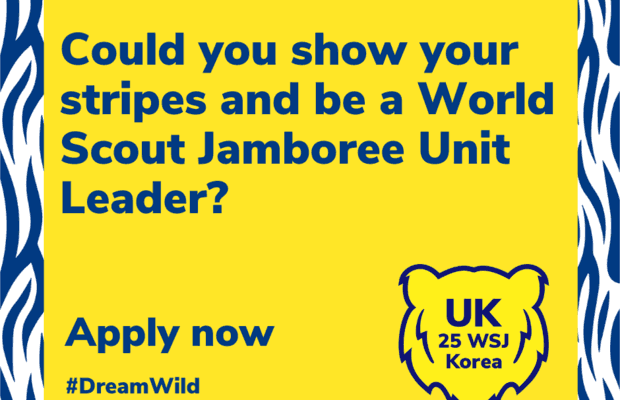 Could you show your stripes and be a World Scout Jamboree Unit Leader?
We're so excited that Humberside Scouts has been allocated 3 patrols to become part of the UK Contingent to the 25 World Scout Jamboree in Korea during 2023. We will be joined by a Patrol of Girl Guides drawn from across the North East Region to make Unit 40!
That means we need to recruit 3 adult volunteers to become part of the Unit Leadership Team who make sure that Unit 40's 36 young people will be empowered to be bold and brave to make the most of the life shaping experience the World Scout Jamboree will provide.
We're supporting the UK Contingent's vision to be the most inclusive UK Contingent to attend a World Scout Jamboree. There should be no unnecessary barriers to anyone becoming part of our Unit Leadership Team.
Never been to a Jamboree before? – that's OK, we want a mix of experience and enthusiasm.
Not an Explorer Scout Leader? – absolutely no problem, anyone with an adult role in scouting can apply.
Never been on a plane? – step forward tiger!
The UK Contingent is not shying away from challenging the perceptions of who an adult jamboree volunteer is, so if you're prepared to Think big, Dream wild and Act together why not leap at the opportunity to apply to join our team?
This is an adult role, and considering prior experience, the UK Contingent advise Unit Leaders, Deputies and Assistants should be at least 18 years old by 1 January 2022.
Find out more
If this sounds like something you'd get your claws into, why not have a look at the UK Contingent's 'Becoming a Unit Leader' webinar, click this link to view a recording https://vimeo.com/575772294
Alternatively, come along to the Nyeri building at Raywell Park on the 5th of August at 7pm to see our County Unit Leader selection presentation.
The presentation will also be given virtually on a County Zoom meeting at 8pm on the 5th of August, follow the link below to register for this event.
https://zoom.us/meeting/register/tJAqcuyupj0qG9DrTY75BkjQyRl4PPfioa6K?fbclid=IwAR2dNPvk93-kyfO4cvG4X8RPX4sGGUpQnmk9sf7h7NPc8lvFZ2tWnakHwEU
Considering it?
Applications are open until the 16th of August for candidates interested in the Unit Leader role and the 27th of August for Deputy and Assistant Unit Leader roles.
Job Descriptions and an application form can be found below in the Downloads section.
At the time of writing, it is intended that all interviews and selection events will be face to face, at Raywell. This is subject to change at short notice should restrictions regarding COVID change. If you would like us to consider alternative arrangements, please get in touch tim.wakeley@humbersidescouts.org.uk.
Downloads